PRODUCT FEATURES of laminate machine
★ The hot melt without water,no need to drying ,laminate speedly
★ The hot melt used containing no solvent ,is an ideal green environment protective glue,produce no pollution emissions ,save energy.
★ The process of laminate machine have wet and solid reaction, irreversible ,firm adhesion, washable
★ The heat source is the oil heating ,fast heating ,and heat evenly
★ The melt system is independent ,the melt is full and speedly.
★ With small amount of diversified design,save cost,digital control system,regardless of speed radio,clearance and temperature control,that makes the operation is better. 5. Base maerial have no tension,soft and light,feels good .
★ The board is humanized design,save operating staff and makes small area of set up.
PRODUCT APPLICATION of laminate machine
TEXTILE INDUSTRY: non-woven products,TPU,PE,PTFE,non-woven,fabrics ,artificial leather
CLOTH INDUSTRY: outdoor sportswear,the field of military fatigues,fire control and police clothing ,medical and health category of clothing underwear ,warm clothing ,cold protective clothing and other functional clothing.
SHOE INDUSTRY:shoe lining ,insole.
AUTO INDUSTRY: Auto traveling head ceiling decoration,post ,cardoor fabric layer.
HEALTH CARE: medial clothing ,protective clothing etc.
FILTER MATERIALS:PTFE.PE thin film processing ,used for sewage and air filter and etc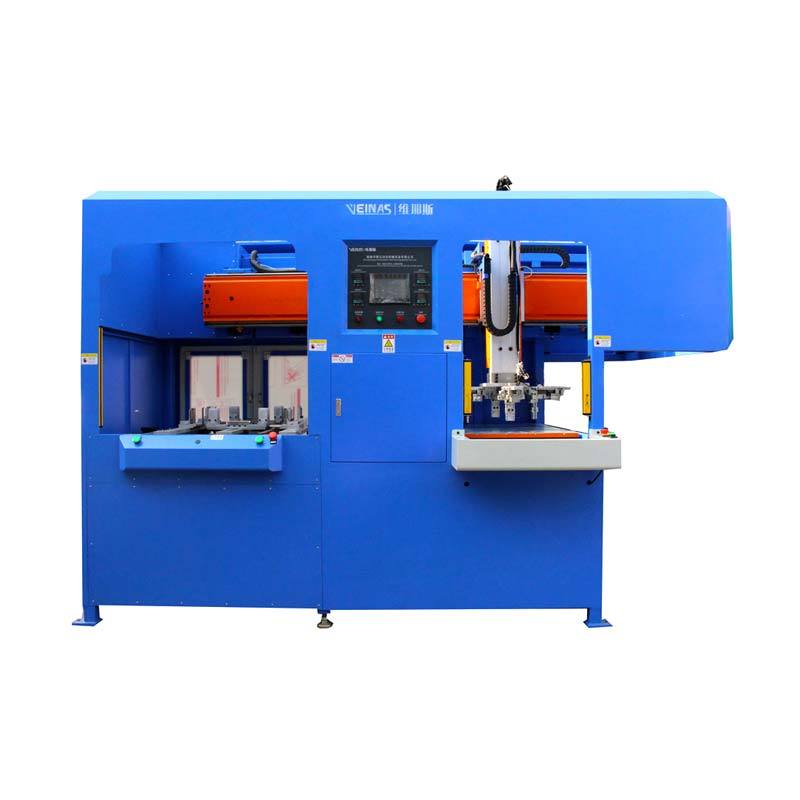 XPE Thickening And Laminating Machine is suitable for climbing mat embossing and thickening. It is used to produce climbing mats, yoga mats, picnic mats, and it can also make the most popular wall stickers at present. This machine is easy to operate, it makes clear embossing and it can save cost.
Plastic Roll Material Laminate Press Machine apply for laminating plastic film on surface of coiled materials, or laminating two coiled material, but in this condition, one material must be surface coated with plastic film.
Typical applications are such as PE film to XPE/EPE foam sheet, aluminum foil to XPE/EPE foam sheet, PE film to kraft paper. Finished products would be anti-fouling, waterproof, wear-resisting, fold-resistant and anti-corrosion
The epe foam sheet laminating machine is designed for laminating products that are very widely used. Not only in packaging industry for surface protection purposes, but also in construction and wooden floor underlayment as well.
Veinas Machinery is providing absolutely the best In-line lamination systems on the market. For production of EPE foam sheet laminated with PE film, HDPE film, metalized or aluminium foil directly after foam extrusion.
State of the art hot roll technology. Oil heated lamination roll with temperature control unit allows fast and quality lamination process. And without foam breaks or banana effect on final product. This constant and exceptional lamination quality is achieved with sophisticated control of foam and film just before being laminated together.Operation at high speeds requires special insertion of foam sheets during lamination start-up. With a simple way of passing the foam through the lamination unit, no roll over passing.
We emphasize progress and introduce new solutions into the market each year for Cardboard Die Cutter , A4 Manual Die Cutting Machine , Hydraulic Clicker , Welcome to build the well and long standing business relationships with our company to create a glorious future together. Welcome Wholesale Epe Foam Laminating Machine Manufacturer.