EPE foam recycling and pelleting machine , is suitable for epe foaming waste material after foaming, to processing to granule, to used in epe foam reproduction, which is adopted to basiconic screw barrel, to improve the feeding speed, and heating temperature stable, operating easily, and get high efficient.The EPE recyling machine consists of an extruder, a water tank and a pelletizer.The motor is three-phase asynchronous motor, with domestic standard: rated voltage 380V, frequency 50Hz.
EPE Recycling Machine(Epe Foam Recycling And Pelletizer) is used for recycling EPE scrape and inferior-quality products. EPE Machine crushes the them first, and then melt them and make them into pellets. These pellets can be mixed with new material and be used for making epe products again.The EPE recycling machine(Epe Foam Recycling And Pelletizer) adopts force feeding method, the material feeding quantity is bigger. The screws are specially designed, so the extruding capacity increased and the working is stable and it saves electricity and labor.
It uses double net-changer, when you change the net, you don't need to stop the machine.
Our epe recycling machine adopts exhaust structure, it can exhaust the gas born from the plasticizing process, so the pellets are more dense and smooth. Our epe foam machine is easy to operate and the investment is very low.
EPE recyling machine technological process of production
The waste epe foam recycling sheet is added into the filler mouth of the EPE recyling machine, broken, melted and plasticized by the screw cylinder, and discharged through the exhaust mouth, then extruded into strips by the epe machinery head, and the strips are cooled by water and then cut into particles by the granulator.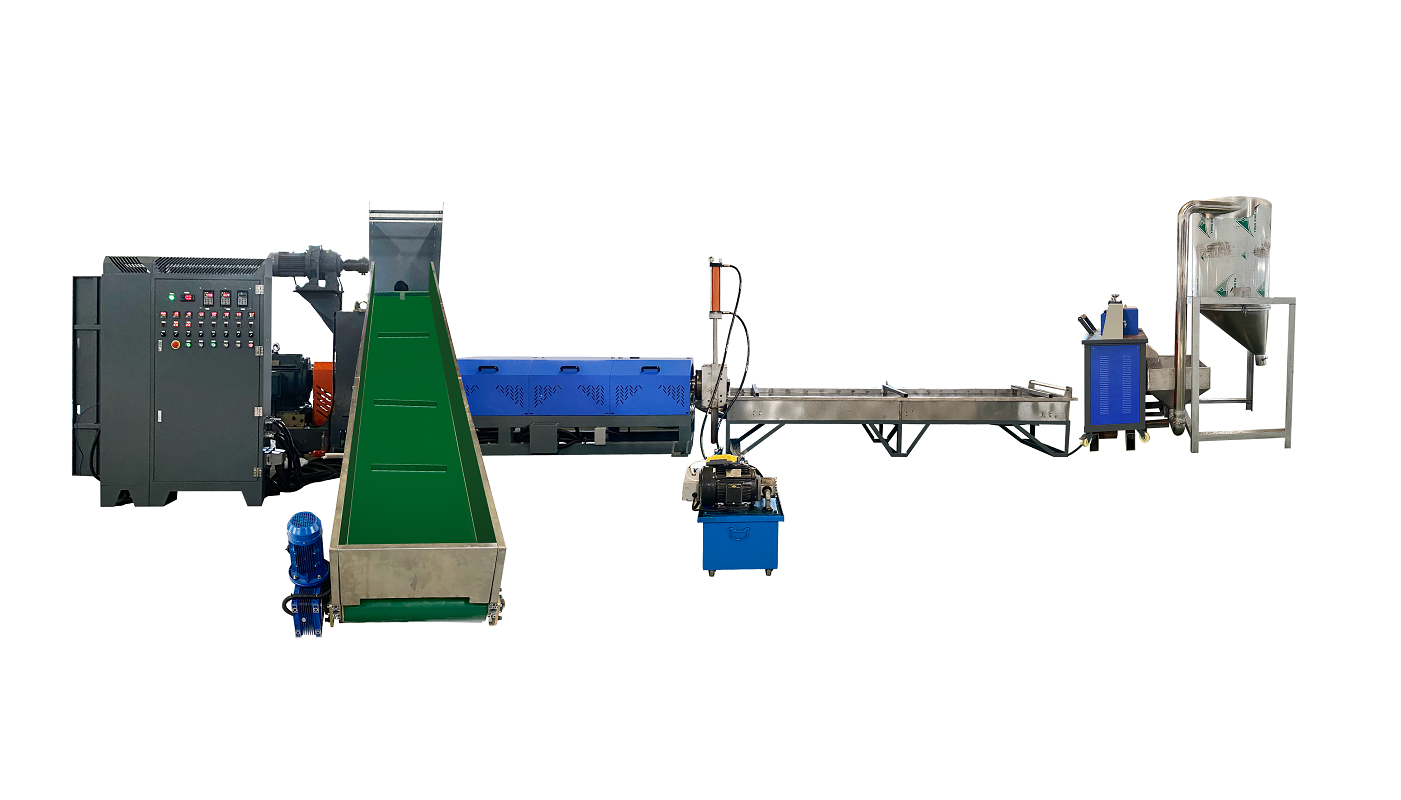 Preparation before installation
Requirements: the supply voltage should be 380V(415V,220V), the frequency should be 50Hz(60Hz), the transformer capacity should be determined according to the installed capacity of the production line.Plant area is determined according to production line length.
Production and operation
Before starting up, the preset temperature of the three zones are all 200 degrees Celsius. After the temperature reaches the set temperature, the epe equipment head (the third zone) can be set as 170 degrees after starting up. The size of the mesh filter shall be determined according to the requirements of producing particles.
Export standard packing
1.Use the PE foam sheet pack every part to make sure every part can not damage
2.Easy rust parts coating anti-rust oil then laminate with strech film
3.Use wood fix every part in container to make sure them can not move
4. Plastic film suitable for shipping
5.As per customer's request