EPE recycling machine
The EPE recycling machine (Epe Foam Recycling And Pelletizer) adopts force feeding method, the material feeding quantity is bigger. The screws are specially designed, so the extruding capacity increased and the working is stable and it saves electricity and labor.EPE Recycling Machine is used for recycling EPE scrape and inferior-quality products. EPE Machine crushes the them first, and then melt them and make them into pellets. These pellets can be mixed with new material and be used for making epe products again.It uses double net-changer, when you change the net, you don't need to stop the machine.
Our epe recycling machine adopts exhaust structure, it can exhaust the gas born from the plasticizing process, so the pellets are more dense and smooth. Our machine is easy to operate and the investment is very low.
1.Foam punching machine adopts PLC control system. It is easy to operate, fast and accurate. Besides, it can store multiple datas according to the shape of the die needed for the work. When changing the die, there is no need to re-set it.
2. The Foam punching machine is used to full cut or half cut various non-metallic sheet materials with forming knives.It is suitable for the industries such as plastic, EPE packing, rubber, printing, etc.
3. EPE Foam punching machine main machine adopts double oil cylinder, double crank connecting rod balance, four-post precision guide mechanism, the cutting depth of each position is exactly the same.
4. When the pressure plate is pressed down, it will automatically slow down when the distance between the pressure plate and the cutter is only 10mm, the cutter is turned to flexible cutting so that there is no dimensional error between the upper layer and the lower layer.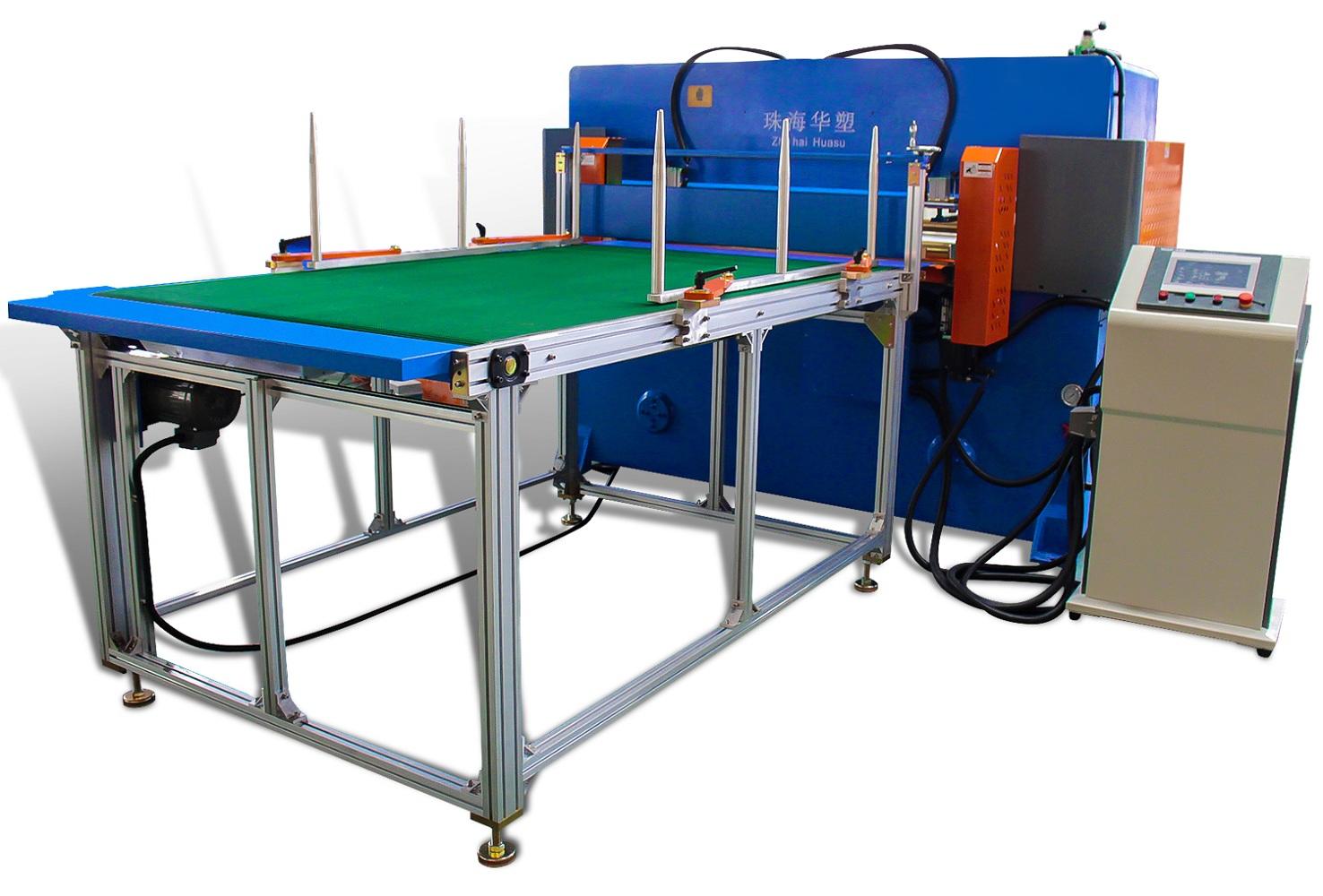 5. The central oil supply automatic lubrication system improves the service life and accuracy of the epe foam machine.
6. It can be equipped with pneumatic clamping device for knife mold, which is convenient and fast for changing the knife mold.
7.It can be equipped with micro-moving device for cutting board to make the cutting board consume evenly and save cost.
8. It can be equipped with a unilateral or bilateral automatic feeding system to improve the production efficiency of the whole machine.
9. It is equipped with a knife holder to fix the knife mold, it is easy to disassemble and replace.
10. The cutting area has safety grating protection device (CE standard) to ensure safe operation.
11. The EPE Foam punching machine adopts high-pressure electrostatic spraying instead of manual painting so the surface is better. Besides, it adopts secondary processing to avoid deformation.
12. It adopts electrical appliances hydraulic system which saves electricity, has low noise, simple operation and has higher work efficiency.
13. Foam punching machine Optional parts:
A. Unilateral and bilateral automatic feeding system
B. Micro-movement device of cutting board;
C. Pneumatic clamping device for knife mold.