PE foaming net is a new type of flexible packaging material. Due to its unique expandable mesh structure and elastic foamed web, it is widely used in the packaging of glass products, precision instruments and various vegetables, fruits, flowers and other products.Our company has many years of practical experience and professional engineers and technicians, we developed many different sizes and specifications of Fruit EPE Foam Extruder according to market demand.
The EPE fruit net machine can produce 700,000-1.2 million Apple nets every 24 hours. The driving motor adopts frequency control. It has advantages of high speed regulation accuracy, low energy consumption and reliable operation. The fruit net machine power consumption is about 18kwh per hour which can save 50% of electricity, and output is increased more than 30%. In addition, the production line can produce foamed sheets, foamed tubes, foamed rods, foamed strips and profiled materials by changing different die heads and auxiliary machine parts.
Foaming fruit net products are made from low-density polyethylene (LDPE) as raw materials, butane gas (or LPG) as a foaming agent, monoglycerine (GMS) as an anti-shrinkage agent as well as other auxiliary materials.
1.Machine stability good
The production line use the high configuration to machine barrel screw, driving force system, temperature control system, foaming injection system, electrical control system , to ensure the stability for each section running , it can support the buyer running the machine in production continuously in long time ,also can ensure the products quality stability.
2.Product weight is light
Our epe foam machine fuse the most advanced foaming technology , adopt unique screw design, to make the foaming property excellent , the foam sheet weight is the most lightest in domestic same industry,the average density can reach to 16kgs/ m³. Basing on this superiority, the buyer not only can promote the market competitive power, but also can gain more profit.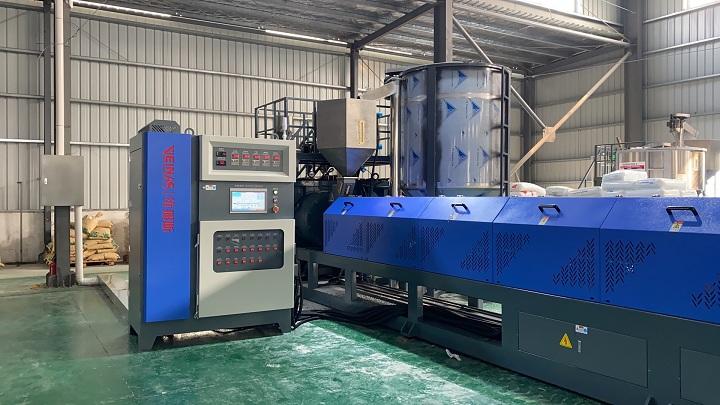 3.Energy saving effect obvious
The pe foam extruder motor use the advanced converter technique, use the high speed and low variable method, to get the max.. energy saving effect .Apply of torque real time monitoring technology to let the loss to minimum. Our machine can save more energy 13% than that of other suppliers.
4.Product appearance good
The foam sheet made by our machine, not only have good physical property, but also have good appearance, the foam hole is small & well distributed, smooth and delicate surface, feel flexibility is very good.
5.Low failure ,long service life
The material and workmanship of the machine is very fastidious, every component , every details is control very well, that let it can use in high effect in long term. Our machine service life is 30~50% more than that of other suppliers, that can let the buyer create more valve.
1) PE Foam Sheet Extrusion Line is equipped with a single foam extruder machine which can produce the sheet and pipes.
2) main material : Polyethylene
3) way of foaming: It continuous roll from low density Polyethylene, using Butane, eco-friendly blowing agent and other additives.
6.Easy operation and maintenance
According to the experience accumulated over years and the suggestion of the operators ,we optimize & improve the machine continuously, to promote the operation and maintenance more easy, the new design is attention to details and humanized, that is highly praised by the customers in China and oversea.